Lady Tigers shrug off distractions, remain focused
Updated:
March 17, 2007, 6:56 PM ET
By
Cathy Harasta
| Special to ESPN.com
AUSTIN, Texas -- The LSU Lady Tigers brought their game faces Friday. As if preparing for their NCAA Tournament opener the following day wasn't enough to focus on, they knew they'd also be in for substantial scrutiny. The pot boiler in Baton Rouge, created by former coach Pokey Chatman's abrupt resignation March 7 and the subsequent investigation into the motive behind her departure, threatened to overshadow preparations for their first-round game.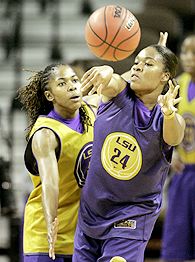 AP Photo/Sue OgrockiLSU guard Marian Whitfield passes the ball away while under pressure from guard Erica White during a workout before the NCAA Tournament.
But the controversy appeared not to have messed in the least with LSU's concentration. Just as junior star Sylvia Fowles has blocked more than five dozen shots this season, the Lady Tigers showcased their ability to block out distractions as they continue their quest for a fourth consecutive Final Four berth.
"You never want to let anything in this time of year," guard Erica White said. "We've practiced well and I'm sure we'll be able to carry that over into the game."
But the players also remembered that no off-the-court commotion should make this a joyless quest. The game faces softened occasionally as the players came to terms with the spotlight beyond Baton Rouge.
A shiver of glee made LSU freshman guard Allison Hightower jump as she described her arrival at her first NCAA Tournament. It didn't bother her that athletic trainer Micki Collins was tending to Hightower's painful lower back.
Hightower, from Arlington, Texas, will have family in the stands when third-seeded LSU (26-7) opens against UNC-Asheville, a No. 14 seed, at the Frank Erwin Center on Saturday night (ESPN2, 10 ET).
"I'm very excited because this is my first time after always seeing the tournament on TV," Hightower said. "Hey, March Madness is here."
Regrouping and rehearsing became the key components as the team hit the stage for its first NCAA Tournament news conference in its post-Chatman era.
After 18 years in Baton Rouge, first as a player and then an assistant coach, Chatman, 37, stunned the women's college basketball world with her March 7 resignation. Thus began a swirl of innuendo that was buoyed by reports that Chatman allegedly had an inappropriate relationship with a former player. The plot thickened when subsequent reports named LSU assistant Carla Berry, a former LSU basketball teammate of Chatman's, as the person who told university officials about Chatman's alleged improper conduct.
Berry spent most of the team's Friday practice standing, arms crossed, on the sideline. She intently watched each drill but rarely smiled or called out an instruction. But Berry customarily takes a less active role than assistant coach Christie Sides, who was far more vocal and animated.
LSU sports information director Brian Miller said Berry did not want to take any questions.
"No, she's not talking, no, no," Miller said.
But acting head coach Bob Starkey unintentionally stole the show when he leveled with reporters concerning what he and the players were prepared to discuss.
"We made a decision that once we got on the plane, our focus is going to be on who we're playing," said Starkey, 47, who until last week was one of Chatman's assistants (this is his ninth season on the LSU women's staff).
Fowles let her game face slip to praise Starkey and salute the quality of the emotion he brings to the program.
"Y'all got to see him during a game," said Fowles, a candid leader admired for her attitude, not to mention her Friday pledge to take advantage of any chances to dunk, if they arise.
But Starkey, who has coached at LSU since 1990, when he was hired as an assistant men's coach, had to know the team couldn't be entirely insulated from what has transpired the past 10 days. The blogs have been brutal, taking all sorts of shots at Berry.
During the news conference, a question was asked concerning whether the team found it odd to be at the tournament without Chatman. Moderator Bill Little, a veteran of such functions and a legendary media relations expert, intervened.
"Let's move on," Little said. "I think we've covered that subject."
Later, Little said he thought the question didn't need to keep coming up: "I think we've just hurdled the hurdle."
Not so for the Lady Tigers.
"We've been working very hard," Hightower said. "We decided not to talk about it."
It
, however, has loomed large for players who can't have found the past week any picnic. LSU's players, in fact, took midterm exams Thursday morning before the afternoon flight across the state line. Unlike many of its counterparts, Louisiana's flagship university does not get its spring break for another two weeks.
"This is a business trip for the basketball team, strictly business," Miller said. "The team has a pretty structured itinerary."
The LSU band members, however, enjoyed a Friday afternoon at the South By Southwest Music Festival. Roy King, director of the Bengal Brass Basketball Band, said a good time was had by all.
And Collins, the athletic trainer, smiled when asked if the team was holding up OK.
"Absolutely," she said.
Fowles summed up the task: "We know what we've got ahead of us."
Cathy Harasta is a Dallas-based freelance writer. E-mail her at jcrasta@aol.com.