Family, friends relishing Folk's hero status
Those who know him best aren't surprised that kicker Nick Folk has achieved hero status in Dallas, writes Cathy Harasta.
http://sports.espn.go.com/nfl/news/story?id=3057103
Originally Published:
October 10, 2007
By
Cathy Harasta
| Special to ESPN.com
IRVING, Texas -- There always was a doctor in the house when
Dallas Cowboys
rookie kicker
Nick Folk
was growing up.
Folk medicine was good medicine -- the ultimate home remedy. But Nick and his two younger brothers, Greg and Erik, never could put one over on their mom. Kathryn Folk, a pediatrician, generally could spot a fake stomach ache from at least 53 yards away.
After Nick Folk's 53-yard game-winning field goal against the Bills on Monday night salvaged the Cowboys' perfect start at 5-0, he laughed as he recalled his only sick day during high school. His mother and father, Anton, an accountant, taught their sons never to look for excuses and to take their responsibilities seriously.
"I went to school sick that one day, but got sent home when I threw up," said Folk, who had four field goals on Monday night and is 10-for-11 this season. "It was tough. But I learned that if you can do stuff with a little bit of pain, it's better."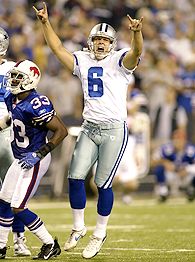 Rick Stewart/Getty ImagesIn a big spot on a big stage, rookie kicker Nick Folk calmly delivered for the Cowboys.


Dallas beat Buffalo, 25-24, after Folk's successful onside kick with 20 seconds left and the 53-yarder he had to make twice. The first was nullified when the Bills called a timeout.
Those who know Folk best shared the drama as the 22-year-old Arizona graduate captured the pro football spotlight. That the Hollywood native became a star thrilled but did not surprise his parents, brothers, friends and former coaches. They know Nick as a conscientious mentor who still regularly calls his former Wildcat teammates to offer uplifting advice.
At the family home in Woodland Hills, Calif., Folk's mom was holding one of Folk's dogs, Tiger, on her lap as she watched the game on TV.
"I was screaming in the dog's ear," Kathryn said. "I remembered the time when Nick was at Arizona and had a field goal with seven seconds left to beat BYU."
Anton, who goes by Tony, said he tried to quiet his wife.
"We had the windows open, and I thought the neighbors might think I was doing something to her and call the police," he said. "We have a lot of confidence in our kids. I was basically their athletic advisor and my wife was their academic advisor."
Cowboys coach Wade Phillips said Folk made a strong impression on the club with his performance at the combine.
"We drafted him, obviously," Phillips said. "The thing I like is that he kicks the ball straight."
Folk's composure also adds a soothing touch. Said Phillips: "It makes me feel better."
Football wasn't Folk's first love. He and his brothers played soccer ardently as kids. Tony, who was born in Austria, had played the sport at the semi-pro level in California.
"I am an immigrant, and my father was involved in soccer," Tony said. "I was four when I came to California, where I grew up watching the Los Angeles Rams and loved football."
Kathryn, a descendant of the first governor of Massachusetts and settlers who arrived in America on the Mayflower, said her sons managed to avoid some of the problems she sees plaguing teens in her medical practice.
"Our sons always wanted to do their sports since they were about four years old," she said. "I see a lot of kids who get pulled into bad choices. I am thankful for every minute I spent on one sideline or another."
Greg, 20, plays soccer at UCLA, having participated in the U.S. Soccer Residency Program in Florida and captained the U.S. team at the Pan American Games.
"Nick always set the standards for me and Erik," Greg said. "He was a good role model."
Erik, 18, plays football at Washington, where an injury has kept him from being the kicker this fall.
Nick said his parents created an atmosphere that allowed skills to blossom.
"My parents put us in soccer to get us running around," said Nick, who will turn 23 on Nov. 5. "I got into kicking in middle school and knew a player a year ahead of me who kicked and played soccer."
At Notre Dame High School in Sherman Oaks, Calif., Nick, a four-year letterman in football and soccer, hit a 52-yard field goal. But his conscientious attitude and willingness to help teammates most impressed football coach-athletic director Kevin Rooney.
"He's a good guy," Rooney said. "He was a very good student. When I was watching him on TV Monday, I was making a lot of noise. He's doing so well."
Though Nick, 6-foot-1 and 222 pounds, had chances at college soccer scholarships, he found the best fit in the Arizona football program. He steadily improved to become a first-team All Pac-10 punter. He hit a 62-yard field goal in the Wildcats' 2006 spring game.
"He's the kind of guy that you dream about coaching because of his work ethic and his attitude," said Joe Robinson, the Wildcats special teams coordinator who nicknamed Folk "Slick Nick" because of his shaved head. "It's really hard for kickers to establish themselves as team leaders. I've never seen anyone who so influences others."
Folk frequently calls his former Wildcats teammates.
"He's a fun guy and very laid-back," said Arizona long snapper Garon McHone. "He's also perfect under pressure. I was watching the expression on his face Monday night. It was really cool. In that kind of situation, if you make the kick, you're the man."
Arizona kicker Jason Bondzio said Folk inspired confidence in other kickers.
"He always told me that an extra point should look the same as a 50-yard field goal in terms of trajectory," Bondzio said. "I think he could have made that 53-yarder from 65 yards."
Tony knows his son's contract does not let him take the risks involved in his hobbies of skiing and snowboarding. But Tony pointed out that a family has to relax somehow, right?
"Fly-fishing doesn't violate his contract," Tony said. "He loves to go. It's a good way of relaxing."
As for his first experience with Texas life, Folk said it agrees with him.
"We have some of the greatest athletes in the world -- T.O.,
Tony Romo
," Folk said. "You learn a lot and want to pass it on to the younger guys. I like everything about being here."
Cathy Harasta is a Dallas-based freelance writer.